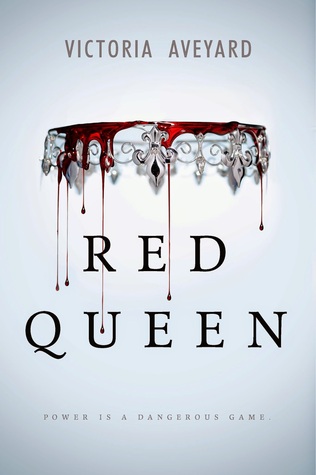 I highly contest this tagline,
Graceling meets The Selection
not unlike many of the other readers out there that I'm seeing. I can honestly say that ____ meets ____ meets ___ is just as much of a cop-out as "the next Harry Potter" and might be nearly as problematic.
That being said. Mare's narrow world has her pegged as the underdog, and there's nothing she can do about it. When she bleeds, she bleeds red, unlike the upper-class Silver elite who bleed silver blood. Side note: This leads to interesting problems later because when she blushes, she blushes a rosy pink color unlike her silver counterparts. A well-developed part of the plot that made it seem more believable. That's not the only thing that keeps the reds down. Nope. The Silvers have special abilities like telepathy, the ability to control the will of others, or the ability to control elements and objects around them.
So when Mare is offered a job at the Silver palace in order to get out of being conscripted as a front-lines solider in a war she has no interest in, she jumps at the opportunity. Who wouldn't when you don't want to die for a lost cause? She soon finds out, however, that she has an ability too: she can make electricity, including controlling the many security cameras in the castle.
With her new found ability comes new responsibility.


Soon Mare finds herself deep in the life of the Silver royals, whether she wants to or not.
All she knows is she better not bleed.