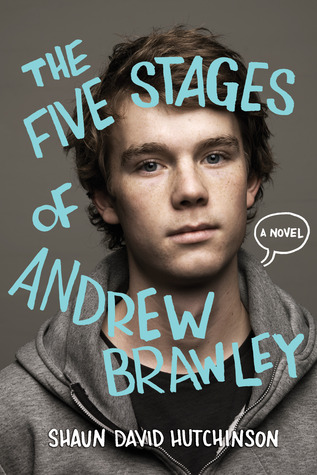 Woah. This book packs a huge punch.
I was expecting something akin to Winger when I started this one, mostly because of the frequent comic strips peppered throughout the novel. You see, Drew is an artist. His character, Patient F, has also lost everything in the hospital. Like Patient F, Drew is struggling to survive in a world where his family no longer exists. Anyways.
Plot:
In his tragic life, Drew is the hero and Death personified is the villainous social worker (known to everyone else as sweet Miss Michelle) who wants to take him away from everything stable and good in his life. He works for cash in the hospital cafeteria, he volunteers and is friends with his makeshift family of nurses, his friends are two straight cancer patients in the peds ward, and he sleeps in the unfinished wing of the hospital. But when a boy comes in to the hospital with third degree burns on his legs, arms, and chest, Drew has to know more about him. He's drawn to Rusty. His agonizing screams pull Drew in.
So he adds a new routine to his life: every night Drew sneaks into the ICU to read to Rusty and tell him about himself. Drew soon learns about Rusty's tortured life as a gay teen, and Drew confides that he hasn't had the same experience. Drew also vows to protect Rusty from Death.
His new routine is threatening to throw his entire life off-balance. When Death starts to notice Drew, he's got to decide whether to protect his friends, protect Rusty, or protect himself.
Verdict:
If you're in for a good cry, then I'd definitely say that this is the book for you. However, if your TW is child death or anything like that, I'd stay away from this read, as Drew reflects often on his six-year-old sister, Cady's death (and there is a graphic scene where Drew tries to give CPR to a dead three-year-old).
This book ain't for the faint of heart.
Extras:
The author, Shaun David Hutchinson, has a pretty sweet Twitter page. I'd check it out, if only to see what an awesome nerd he truly is.